Ouarzazate , Zagora and Erfoud
Ouarzazate Morocco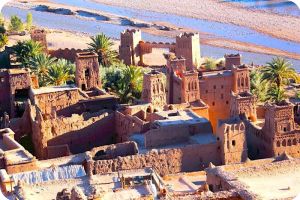 Ouarzazate is a dazzling city surrounded by dramatic landscapes! Strategically located at the crossroads of the main routes leading to the Draa, Dades and Ziz Valleys, Ouarzazate was settled and fortified by the French as a garrison in the late 1920s. Since then, it has become a center for craft, tourist and movie industries.
Ouarzazate is also known as Morocco´s Hollywood. Scenes from Bertulucci´s "The Sheltering Sky", Spielberg´s "The Gladiators", "The Last temptation of Christ", and "Lawrence of Arabia" were shot in and around this area .
Ouarzazate is also renowned for its Berber ceramic work and fine carpet making. Main attractions include the Kasbah Taourirt, the souk and the nearby famous Ait- Benhaddou Kasbah.
Zagora Morocco:
The town of a stunning sunset vantage point Historic Highlights: The town of a stunning sunset vantage point! During the 16th century, the descendants of the Prophet Mohammed from Arabia used Zagora to launch their conquest to the Souss Valley. Main attractions include the Tumbouctu sign found at the end of Boulevard Mohammed V.
The neighboring town of Amazrou that includes the Jewish Kasbah situated across the river. Djebel Zagora (Mt. Zagora, 3,195-ft from hotel Kasbah Asmaa). The Almoravide fortress is a splendid sunset vantage point. Further south on the way to Tamegroute and Tinfou, stop at the Draa River for a great panoramic view.
Erfoud Morocco:
A starting point to the Merzouga dunes Historic Highlights: Erfoud is the starting
point to the famous Merzouga dunes of the Sahara region. Erfoud was built during the French protectorate and served as an administrative center and military outpost. The Erg Chebbi, the name of these sand dunes, is said to have some of the highest dunes of the Kingdom.
This region is one of Morocco's largest oasis valleys fed by the estuary of Oued Ziz and Oued Rheris. Main attractions include the date festival held in October is a must see. The main gate leading to the medina portrays the Almohad architecture. The Military Fort of Boj Est offers a magnificent view of the date palms and the desert.
Explore other Moroccan Destinations:
Marrakech, Morocco | Casablanca, Morocco | Meknes, Morocco | Fes, Morocco |